Just a few minutes from Bolton, the Menopause Clinic is the leading local expert in Bioidentical Hormone Replacement Therapy.
Led by Deborah Vines, an experienced specialist in BHRT treatments, our clinic will create a bespoke prescription of hormones that can address the changes your body is undergoing.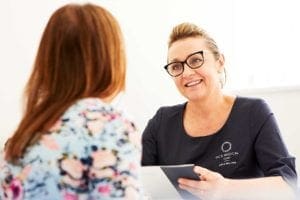 While hormone replacement therapy can be used for a number of life stages, we specialise in menopause and perimenopause, both of which can have a huge impact on any woman. We are here to use our expertise to help you not just to get through this challenging time, but to thrive, and for the impact of menopause to be greatly reduced.
Our hormone blend will work in tune with your body to replenish and so reduce the impact of hormonal depletion and imbalance.
We treat everyone as an individual, hormones only prescribed after both a detailed consultation and lab analysis of your existing hormonal make-up. There is no one size fits all approach, or attempt to use a blend of hormones that is theoretically right for someone of your age. We find the exact BHRT treatment plan that is right for you as an individual.
Once a year, you would undergo a consultation at our Heywood Clinic, this of course just a quick drive from Bolton. After this, follow-up conversations would be on the phone or on a video call, to check the hormones are having the desired impact.
Hormones can be sent to your local pharmacy or even delivered directly to your door. It could not be easier.
Benefits of BHRT
Menopause and perimenopause can have a huge impact on a woman's life. Symptoms can include tiredness, loss of libido, stress and many other issues besides. In short, many simply do not feel themselves for an extended amount of time.
BHRT can treat this, it tackles the root cause, the loss of hormones and the imbalance this creates.
Bioidentical hormones also do this in a way that is far more in tune with your body than standard hormone replacement.
Whereas other methods are an approximation, synthetic versions of what the body produces, BHRT are hormones that are perfectly matched with those your body makes naturally. They are, as the name implies, identical.
There is therefore no concern that they are rejected, or don't have an impact. This is similar to diet – the BHRT are like natural hormones, the other synthetic hormones like a pill. We all know that it is better to eat fruit and veg than to pop a vitamin c tablet.
Bioidentical hormone replacement therapy can be of use from the moment you first start to suspect the menopause or perimenopause is having an impact, there is no need to wait for it to become a major concern.
Why not address the hormone imbalance as soon as it starts to develop?
However, do not worry if you are already experiencing noticeable symptoms and have yet to start BHRT treatments. We can find the blend that works in tune with your body whatever stager you may have reached.
We are seeing women from a younger age, this in line with some evidence that suggests many women are experiencing the early stages of the menopause earlier than was the case for previous generations.
Certainly, by the time women reach 40 there can be a major reduction in hormones that were plentiful just a few years earlier.
Oestrogen will have almost completely gone, and other hormones can be below 50% of their former levels. However, these are generalised figures and we would assess your hormone levels as an individual.
BHRT Process For Menopause
We have a tried and tested (and trusted) process.
Contact the Menopause Clinic for an initial consultation with Deborah Vines, a trained expert in BHRT treatments.
You would then come in for consultation, this an opportunity for an open and honest conversation about your menopause to date and the impact the hormonal changes are having. We would take a blood sample, this then sent for specialist, expert analysis.
We receive the test results back, usually within two working days. We then contact you to talk through the results and our suggested BHRT treatment plan. If all is agreed, we move to stage four.
The prescription is sent to a pharmacy of your choice., You can collect the hormones or have them delivered.
The process really is that simple.
Follow-up conversations would be at six weeks and six months. This will ensure the hormones are having the desired impact. On some, rare occasions, slight tweaks will be made to the prescription.
After a year, the process is repeated. It is important to have these annual consultations as your body will continue to change and so the balance of hormones will need to be bespoke for each year.
The Hormones in our BHRT Treatments
The hormones in BHRT treatments are created from natural plant oestrogen and are based in a wonderful substance called Diosgenin.
We create bespoke BHRT treatments that are based on you and your body, not on a generalised example of someone of your age. This ensures the hormones work precisely with your body.
The BHRT treatments we provide are easily taken, coming in creams, lozenges and capsules.
Next Steps
If you are interested in further information about BHRT therapy, or would like to book in a consultation with specialist Deborah Vines, please contact us as Menopause Clinic – one of the few Manchester clinics to offer this important form of treatment.
Please call us today on 01706 691 683 or via email to book in an initial consultation.